How single people can stop self-sabotage and get what they want.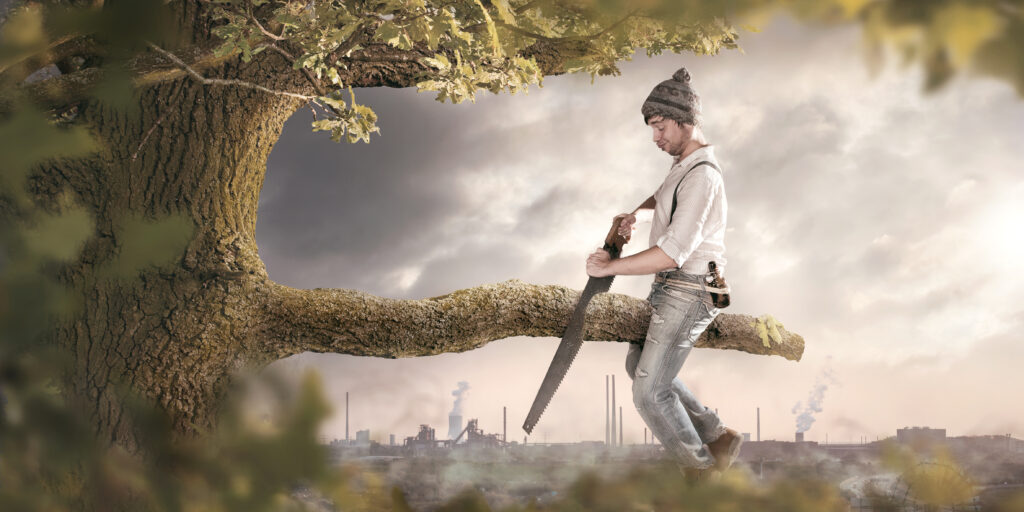 by Becky Whetstone, Ph.D.
For years I was a fool in relationships. If I was interested, I'd pretend to enjoy experiences I didn't; became who I thought whatever guy wanted me to be, and kept my mouth shut when I vehemently disagreed with something they did or said. I was so lost, that if a man was cute and had a great career, I'd do anything and everything to not to be rejected. Of course, I paid a price for that … terrible relationships, three divorces, a bruised and damaged heart, and lots of regret. I saw the red flags but put them on the back burner of my mind. I had so many self-sabotaging behaviors back then that it's a wonder I was able to come out of it and become a relationship expert, but that's how much I wanted to change.
During all of it I gave myself a hard time. My inner critic was continually hammering me about my self-defeating behavior and the crazy relationship failures. So much so that a voice in my head said, "Life isn't going to be this way. You are going to figure this out and turn your life around." To start, I hired a trauma therapist, attended numerous self-help workshops, and entered graduate school to become a Marriage & Family Therapist. By golly, I was going to figure out why I acted that way and how to end the madness of past relationships. I dedicated five years to my higher education, and spent a lot of time researching dysfunctional relationships, healing, and what healthy relationships consisted of. I read books, studies, and performed a year-long study on how individuals in long-term marriages decide to divorce. All this work and insight changed my perspective completely. In five years' time I had done a total reset that continues until this day.
I now understand what dysfunctional behaviors are. I know what is healthy and what is not. I grew up. I have become an evangelist for healthy relationships, and that's why I write blogs and maintain two web sites about them. I never tire of talking about it and want to spread the news everywhere My message is that there is a way to have the kinds of relationships we all long for, but you must do some hard work to get it.
During my grad school years, I remained single. I dated some, but for 10 years I never had a boyfriend. I came out of it emotionally prepared to tolerate zero ridiculousness from any man, and if I even whiffed a red flag, I'd move myself along. The end goal was to become financially and emotionally independent because I knew that a person needed to be that way to make healthy relationship decisions. That was a far cry from the woman who once always needed an ongoing relationship. Even if it meant being single forever, I would never sabotage myself again. It was going to be a compatible, solid mate for me, or bust, knowing I'd be just fine either way. To say it was difficult to meet someone who was grown up, was capable of adult relationships, and didn't act ridiculous is an understatement.
Out of school for 17 years, I now work with individuals, couples, and families in my private practice, and have experienced a lot of surprises. Before becoming a therapist, I never knew how many hard-working, decent Americans were severely dysfunctional in relationships. They may be excelling as adults in business, but in their private lives they are in the toddler stage. There is so much anxiety and fearfulness, inability to be alone, addictions, unbridled verbal and emotional abuse, people unable to hear anything other than a critical inner voice, that it stuns the mind. What all these emotional disabilities add up to (and many others not mentioned), most single Americans are extremely immature in relationships. It's a terrible term to call someone you dated a throw back, but that's what men and their red flags were for me. Like a fish not mature enough to eat, these men weren't mature enough to date. My teen daughter began teasing me about watching me go on dates, knowing the man was doomed. For me it wasn't a foregone conclusion, I was always hopeful that I'd meet an emotional adult, I just didn't realize how rare they are. I began calling emotionally immature men I met, Ridiculous People. This is not kind, I know, but they were so off the wall in their beliefs and behaviors that it was the best term I could come up with that described my experience. The stuff they said and did was nothing short of, well, ridiculous. I believe if more people held out for someone that is emotionally mature and compatible, it would force the ones who are shallow and difficult to work on themselves. Is that too much to ask?
Today I use my difficult lessons and those of past clients, to help others. Of course, I have changed details to protect their identities. The following is a list of ridiculous behaviors grown men and women do that sabotage their chance at a great relationship:
Testing people. What's worse than being given a test you don't even know you're taking? I used to spend time with Ron. I enjoyed his company and friendship. He wanted romance, I did not. We went to a Mexican festival one day, and there were lots of crafts for sale. We strolled through the building admiring the colorful art, and the next thing I know, Ron was nowhere to be found. I looked around, then moved on, figuring he'd gone on ahead of me or went to the restroom. "But why didn't he say something?" I thought. A few minutes later he popped up and said, "I just hid to see if you'd come looking for me. I wanted to see if you care." I was livid. It was a test. I was being tested without my knowledge! I felt violated. I told him that I didn't play games or engage in nonsense, and if he wanted to know if I cared, it'd be best for him to ask. I've seen other insecure people in my office say things to their partner like, "It sounds to me like you don't care." This is a test question from a person needing reassurance. Instead of asking for it, this person will give you a test. If you don't answer it correctly, you'll pay. I recommend if you are given a test by your dating partner, that you consider someone with more self-confidence, as I did, in Ron's case.
Dating again five minutes after one relationship ends. The last thing someone in a recently failed serious relationship needs is a new relationship. Yet an enormous percentage of people don't let the sun set on a breakup before going online and putting their shingle out on a dating app as a potential partner. It's an insecure attachment attachment dynamic that ends up disastrously most of the time, and if you like to put your heart in high-risk situations, this would be the person for you. I like to see someone out of a relationship for at least a year before venturing back out there. There's healing and taking stock that needs to take place. If a person can't wait, I see it as a major red flag.
Saying they don't care when they do. "Franky, I don't care what you do!" she said, but I knew she was lying. How? Because people who don't care are apathetic and flat. They literally have no energy or concern about anything you do. People who care are emotional, angry, and fearful. I wish people would just get to point rather than play silly games. This is a game I wouldn't play a second time.
Expect you to read their mind. "If you loved me, you'd know what I want. If I must tell you what I want, then it means less to me. I want you to figure it out." Or, "You should have known!" Ugh, and to that I say, baloney. If we want something from our partner, we must tell them. We can't expect things from them without mutual agreement. Don't sit there silently resenting your partner because they don't give you what you want if you haven' explicitly explained what that is. Grow up and advocate for yourself.
Ghosting. The most ridiculous act of all. Seriously, ghost me once, we are done. No second chances. If I dated a guy who ever ghosted anyone, he'd be toast. Unless a person is dangerous, ghosting is the most immature and cowardly of human interactions and reveals serious issues with respect and human decency. I'll never understand it, and people of integrity don't do it.
Make up things to accuse you of. I once dated a man who said his friends saw me driving in my car with another man who wasn't my teenage son. This never happened. Have you ever had someone falsely say they saw you doing X when you didn't do X? Call it fishing, but it comes from a place of fear and insecurity, or perhaps, projection, and if you do that to me, you'll be fishing alone.
Putting expectations on others. "As my partner I expect you to pick up the phone when I call." Or "I expect you to text message me back immediately." Or "Why don't you ever post about me on social media?" Oh really? No adult is the boss of another, and no one has to be in constant communication with another unless they want to be. Some people love to post on social media, and others never will. Put rules and expectations on me without my agreement and you can expect to be disappointed. Unrealistic expectations are, well, ridiculous.
Telling others what they think or feel. No one can read minds, as I said in ridiculous item number four. Therefore, the only person who knows what I think or feel, is me. If you tell another what they think or feel, it's a good way to make them angry. Have you noticed political pundits do this all the time? "Democrats want a free ride." "Republicans want an all-white nation." It's all conjecture, a waste of breath, and almost always wrong. The wrongness part is what angers the listener. If you make up that I think I am better than you, or tell me what's going on with me, I'll be telling you ta ta.
Stereotype and pigeon-hole. Every human is like a different animal with different needs and personalities. You can't compare on to another accurately. To throw anyone in a box and label them is disrespectful, angering, and ignorant. If you throw people in a box, I'll throw you in a box.
Flirt or say someone wants you, all to extract jealously. Seriously? If you are that manipulative and insecure, you should not be dating.
Talking to or looking at others inappropriately. My husband is a grounded, rational adult, and he tells me in their imaginations, men are X-rated nasty dogs. Hundreds of other men I've asked concur. It's all an internal journey, all in their minds. If most women really knew what men were thinking, we'd probably have nothing to do with them. Men are going to notice attractive women, but they better not show it, and if you talk to the person stoking the fires in your mind, there will be blood. I suggest single women not tangle with men who can't control their reactions when an attractive woman comes in the room. It's disrespectful and childish.
Instigate fights to instigate space or to get closeness. Immature adults get bored easily. Like a child, they need others to play and engage with them. If bored, feeling smothered or needing distance, there's nothing like a good old fight to change the energy in the room to more of what you're looking for. All of this drama when you could have just made a request. Ridiculous.
Create issues so you will break up with them. They're done with you but want you to be the one to do the dirty work of breaking up. Heaven forbid they be cast as a bad human being — what passive aggressive nonsense! If your partner has turned from being the good guy in your life movie to a bad guy, and they have no desire or make excuses about working things out, go ahead and be the one with the gonads and cut them loose. In the end you'll be the hero, and for yourself.
Refuse to commit. I've seen couples argue for two years over whether the term boyfriend or girlfriend may be used. Your dating partner will sense any activities you engage in that reveal you think in terms of me, instead of us. If you are wondering where you stand in a relationship after a year or two, the lack of reassurance and conversation about it is your answer.
Refuse to introduce you to their family and friends. If the person you've been going out with doesn't want to include you in getting to know his friends or family, something is up. They may even be separated or married. Super-private people are not healthy people. The good news is there are plenty who will be happy to include you in their world.
Assume you're interested just because you're friendly or want to meet them. I'm an extrovert and friendly person. I've had the vegetable guy at the grocery think I wanted him because I am friendly and would speak to him every time I came in. I wasn't. On dating apps, just because someone agrees to get to know you better doesn't mean they are seriously interested, and just because someone is friendly doesn't mean they're hitting on you. In the first instance it means they are wanting to learn more to see if they are interested, and in the second it means they are friendly.
Blab to anyone who will listen about your personal business. Oversharing is real. I know someone who posts all their medical issues, test results, worries, fears, latest failing health and medical complications on social media in 10-inch-long posts. There seems to be a lack of emotional intelligence here, but in any event they are not a good candidate for a healthy relationship. Less is more. Editing is good. Revealing what is remarkable or interesting is appreciated, too many boring or disgusting details is a deal-killer. People who share too much want attention for all the wrong reasons.
Rush things. People who hurry you along in a romantic relationship are up to something, and it's not good. I once had a man tell me on the first date, he felt I was "The One." I laughed in his face and said, "That's the craziest thing I've ever heard someone say," and it was. One client I had was dating a guy so insecure that he was trying to seal the deal before she could figure out how needy he was. People with serious mental issues can only hold it together so long, and they know it. Another very young client married a psychopath the first month they met. He had swept her off her feet and wowed her by seeing he was worth over $50 million and could make all her dreams come true. He urged her to get pregnant right away and started to do crazy things almost immediately. She is now a single mom, and the psycho has disappeared and never paid a cent toward the care of the child. She learned about the ways of ridiculous people the hard way.
Demean you because you're educated or successful. Insecure people will not feel comfortable if you are more accomplished, successful than they are, or have have family money, and it'll show up in either direct or side remarks they may say about it. What a problem to have, right? But if a man showed me that my doctorate in Marriage & Family Therapy bothered him in any way, then I knew he didn't have the confidence to walk by my side. I've had plenty of male clients who are stay-at-home dads, and they complain about the same things stay-at-home moms do. Not enough help, appreciation, or attention. They feel second-class. It takes a special man to be the Stedman to your Oprah. If a person you're dating ever puts you down, they're ridiculous.
Try too hard with your kids. Is the best way to a woman's heart through their kid's heart? No. My kids used to get a lot of cool stash from men who came over for a date, and some would be too friendly too. My kids saw through it, and talked about it after they left, and I found it embarrassing, for my date. When I first meet you, keep your distance from my older kids if they're around. There will come a time to know them, but only if it turns out you're not ridiculous.
Telling me what others say about me. Being gossiped about is a terrible feeling. People who are loyal have your back. If people talk negatively about you, they won't stand for it. Also, if people say terrible things about you, they'll protect you from hearing that information. A person of substance doesn't bring you bad news about you and wait for your reaction. They head it off at the pass, kill and bury it.
Too much Internet research. Men used to repeatedly creep me out after revealing that they'd been cyber stalking me. "You recently rode in a 50-mile bike race, right?" How'd you know that? "Well, if you do a search, it comes up." Eww. You read the bike race results?" I understand that we'll all probably do a search of a person we go out with, but by golly don't tell me about it. It's creepy.
Don't decide what's best for me. You've seen these people. "I didn't call/invite/visit because I figured you were too busy or tired." What a cop-out. Always show up in times of need or ask if it's okay to show up. Don't decide what I want to do, ask. "Well, I knew Marilyn was going to be there so I figured you wouldn't want to go." But you were going to meet Justin Bieber and Paul McCartney for cocktails!? Are you kidding me? Ask if I'm okay with it, don't decide anything for me unilaterally.
Won't let your committed partner see your phone, email, or text messages. When you first start dating someone it's not appropriate to have access to their personal devices, but when the relationship reaches a serious point, neither person should have an issue with the other glancing at their digital content on occasion. If your partner obsesses about seeing your content, that's another thing, and reveals distrust. Distrust is one of dating's most obvious red flags. My husband and have all the passwords and can view one another's content anytime, thing is, neither of us want to. That's the way it ought to be.
Talk about their ex too much. So, you're hoping to find a committed relationship and your date keeps talking about their ex, a sure sign that they are living in the past and haven't sufficiently grieved past wounds and hurts. If they show promise in other ways, release them back into the river and call them back in a year. If they're not yet in a committed relationship, and they're over talking about the ex, they might have earned a green light.
Put their children first no matter what. I once dated a guy who would drop our plans last minute if one of his teen children called him to do something. It would be his former spouse's custodial weekend, but he just wouldn't, or couldn't, say no to giving his son a ride to the paintball store on demand. In divorce kids should always come first, but that doesn't mean you don't respect boundaries when it comes to them and the person you date. If you invite someone on a date, that's a commitment. Don't cancel on them unless your child is in an emergency. His lack of boundaries with his kids revealed codependent issues I was not willing to deal with. In search of a grounded man I could count on, I moved on.
Lack of patience. Some people are in a hurry. Others take their time. If a person tries to rush you to commit, to have sex, and basically ignores your pleas and requests to move slowly, they are ridiculous. A person who values you will wait until the cows come home from Ireland if that's how long it takes for you to open your body and/or heart. The ones who say if a person doesn't let them have sex by date number (insert any number here), is interested more in themselves than anyone else. Ridiculous.
My message to every single adult is don't sell yourself out and never settle. Be able to be alone, be patient in finding a compatible match. The odds that you will meet someone compatible after five or less dates are astronomically low. Date as many people as you have the time and energy for — I estimate I dated well over a hundred throughout the various periods I was single. Maybe more. That's a large sample to select romantic partners from, and you'll see and learn a lot! Expect that finding someone great for you will take a long time. In the meantime, work on any of your past traumas and traits that are dysfunctional like low self-esteem, self-destructive behaviors, attachment style, negative self-talk, and find a good coping mechanism that is healthy. A lot of my clients underestimate the quality of partner they can attract. Move the bar higher. Make sure any relationship enhances your life. Don't tolerate being dragged down or controlled by anyone. Healthy people attract healthy people to their life and will not tolerate the ridiculous behaviors listed above. The key to a good relationship involves thoughtfulness, self-control, kind words and actions, and solid mental health. In the end, follow my mantra of, only spend your life with another if they're so damn good you'd be a fool not to.
Becky Whetstone, Ph.D. is a licensed Marriage & Family Therapist in Arkansas and Texas*, and is known as America's Marriage Crisis Manager® . She would love your support with a follow and appreciates you sharing her work! She has worked with thousands of couples to save their marriages, and is also co-host of the Call Your Mother relationship show on You Tube, and has a private practice in Little Rock, Arkansas, and as a life coach via tele-therapy. To consult with Doctor Becky or to get on her email list so you don't miss a thing, contact her here, or check out her web sites at www.DoctorBecky.com and www.MarriageCrisisManager.com.
*For licensure verification check Becky Whetstone Cheairs.