This intervention was created by researcher Bill Doherty, Ph.D. of the University of Minnesota to help couples on the brink of divorce make an intelligent and deliberate decision about what they want to do in the immediate weeks and months moving forward when one person wants out of the marriage and the other wants the marriage to be saved. (For more information, visit our page devoted entirely to Discernment Counseling here.)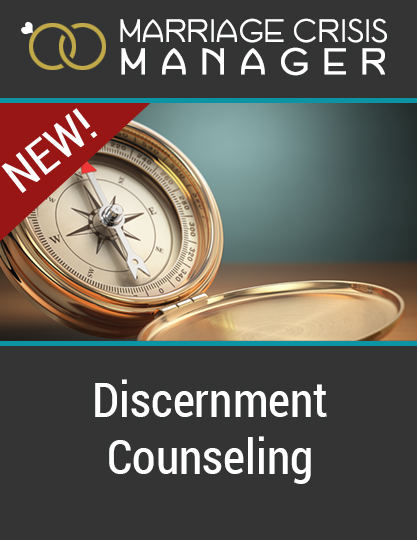 Doctor Becky Whetstone, your Marriage Crisis Manager, has received this training and is ready to help you and your partner if your relationship is on the brink. Discernment Counseling involves up to 5-sessions of conversation, option-weighing, and ultimately a decision to choose one of three paths:
1. Path One. Stay in the marriage as it is.
2. Path Two. Separate and ultimately divorce.
3. Path Three. Commit to six months of dedication and focus to marriage therapy with the hope that the issues driving the marriage crisis can be repaired or lessened. At the end of the six months the couple decide to divorce or stay married.
Discernment Counseling Protocol and Cost
Step One. Intake phone calls. Each partner schedules a 20-minute phone call with Doctor Becky. If both agree to Discernment Counseling, we proceed to step 2, Discernment Counseling.
Cost for 20-minute phone calls: $88 each.
Step Two. Initial Discernment Counseling Session, two-hours total. One 35-40 minute session together, and one 35-minute session each with each individual, final 10-minute session together.
Cost: $385. (Via Phone, Skype, FaceTime or in person.
Step Three. Subsequent 1.5-hour sessions. No more than three total sessions. Involves talking to the couple together and separately. In the last meeting, the decision as to which path the couple will take is made. If path three is chosen, the couple's final Discernment Counseling session will be devoted to transitioning to marriage therapy ­– either with Doctor Becky or the marriage therapist of your choice.
Cost for subsequent sessions and transition session: $350 each
Step Four. Transition Session. 1.5 hours. Couple decide which path to take, and the final session is devoted to the transition to leaving the marriage as it is, separating or divorce, or moving on to six months of marriage therapy.
Cost for transition session: $385.